6 Ways to Re-Invent Yourself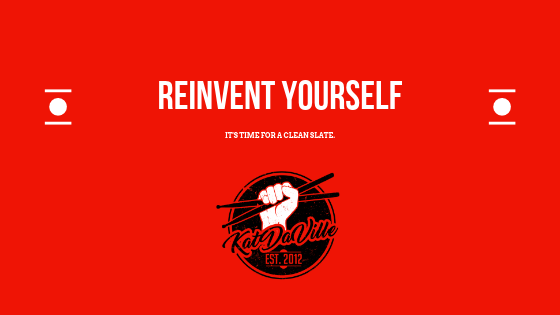 Once upon a time, when I was an assistant karate instructor, I got an amazing gig performing taiko drums with the students before a HUGE audience.  It was THE COOLEST gig I've ever done.  It combined my love for martial arts and music in one shot.
So, the following year, I was asked to perform live music with a group.  Great opportunity, right?
What I didn't realize is that I fell flat on my face.
After the performance, I was told by half the people my band was amazing.  The other half mentioned that I completely embarrassed myself in front of 500 people (many of them were my neighbors or people from town).  From the looks of the video, I thought we played pretty gosh darn great.  Whatever.
After a year, I learned my gig was replaced by the School of Rock in Marlboro, NJ.  I was cordial and polite since my taiko demonstration stayed in the program.  The children of their elite group played very well.  However, something interesting happened: I pulled out my bass drum for the taiko demo for our portion of the rehearsal (it's clear acrylic and it looks totally badass).  The drummer mentioned that the only way to get a kit like that was if I had an endorsement (which I did).  As I was setting up, I noticed the band kept looking at me and whispering among themselves.  I disregarded their random gazes as their sound check completely consumed any rehearsal time I had for my portion of the program.  This was not their fault, however.  They showed up when they were told to show up.
My crew and I performed our demo against all odds and we brought the house down!  I was so proud of my kids… Through so many changes and hurdles, they followed direction and stuck with me.  I was exhausted but over the moon.  Those kids were the greatest mates ever!
One of the School of Rock reps came up to me as I was packing up.  I was in uniform and I had just earned my first-degree black belt.  Her name was Antonina and her demeanor reminded me of my mother: soft-spoken, astute, and observant.  She requested my business card, which I naturally obliged.  We got to talking and shared our mutual love of music.  Antonina was lovely and extremely cordial.
Fast forward 2 weeks later.  I get a phone call to interview for their drum teacher position.  I aced my interview: all I had to do was teach the owner's son.
I'm thankful to report that even though I don't work there anymore, my children still attend there and have received a phenomenal music education.  The School of Rock has a fantastic program.  I'm grateful to be a part of their team.
As gigs end and mistakes are made, it's important that we don't torture ourselves over what could've been.  Everyone experiences missed opportunities and unforeseen outcomes.  Regardless of the end result, keep hustling.  Keep fighting.  Your heroes learned the same stern lessons you experienced.  You, too, can reap the rewards of these lessons learned.
1. Find Work in Different Places
Sometimes, you find work in the weirdest places.  Other times, you find it where you're supposed to get it. Recently, I decided to join the Musician's Union (Local 399 REPRESENT!).  The community alone became a wealth of information.  I got to sit down with some incredibly heavy hitters of the Asbury Park jazz community and some serious influencers within the scene.  The president of my local is on more boards than I can count.  I want to be that cool…
These individuals are so lovely and endearing.  They promote community and helping each other acquire work.  Plus, local union participants receive a pension upon retirement.  It's pretty amazing…
Other places to consider finding work:
Craigslist
Backstage
NJ Gear Exchange
Your Local Musician's Union
Your Mates
Your Personal Connections
Leave no stone unturned, my friend.  With all your ways of getting sh*t done, you'll definitely figure it out.
2. Use a New Teaching Method
As a music instructor, I'm constantly looking for new ways to connect with my students.  As a professional, I'm always finding different methods to improve my current skill set.
One method of which I like to review is the website, teacherspayteachers.com.  This wonderful resource provides private instructors like me different ways of connecting with students of all ages, grade levels, and performance levels.  For example, it never occurred to me to provide the aspiring child prodigy crayons and drawing paper with musical notes on them: we color the whole note orange while coloring the half note green, etc.
I'm the instructor and I'm still learning how to teach, instruct, and facilitate better.
3. Try a New Style
Playing style, that is.
4. Change Your Hygiene Regiment
Lather.  Rinse.  Repeat.
Try a bath bomb instead.
5. Run
Not a fan of working out?  Do you disagree with science?
6. Embrace Yourself – Warts and All…
Richard Branson.  Tony Robbins.  The judges from Shark Tank.  What's the difference between you and them?  ABSOLUTELY NOTHING.  
Money can always be earned and recouped.  Personalities alter as one decides to better himself or herself.  Your frame of mind evolves as you notice the interesting attributes that make your perspective differ from everyone else.   Thusly, I suggest researching all the fantastic ways to strengthen your self-assurance and improve upon the ideas and characteristics you feel need work.
My dear, you are a work of art.
Like all artists, we find there's always room to improve, get better and re-invent.  No one can get away from who they are.  But we can always become the individuals we want.
Believe in yourself.  I go more in depth into this topic here.
Say your prayers (or novenas or meditate or whatever it is you choose to do).
Inside of yourself is the best person for the job.  Let them out.  If your current mates, colleagues or friends can't handle your new found ambition, it's time for new people in your life.
Think about it…