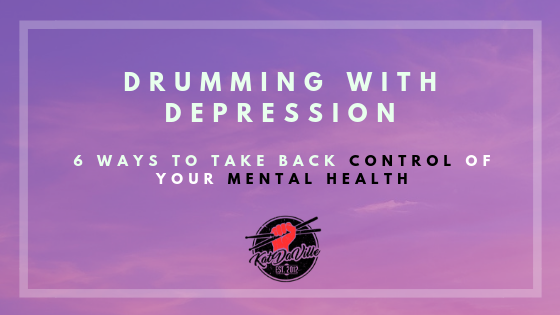 Drumming with Depression
Posted on
February 22, 2019
EDITOR'S NOTE: Kat is not a doctor.  The following post offers her opinion on different methods of how to overcome certain mental health struggles.  If you need medical assistance for any mental ailment, condition or episode, please contact your nearest hospital immediately.
This particular post is extremely personal.  However, I'm sure many of you can relate to the struggles with anxiety and depression.  Here's my two cents…
The world is much different than when our parents were young and we were a twinkle in their eye.  Interestingly enough, my parents in particular recently acknowledged how much the world has evolved, especially with the advent of technology.  I find that having access to everything under the sun might contribute to individual levels of mental health issues.  For example, if I'm bombarded with images of someone who has a job that I wish I had, I would feel overwhelmed with despair and shame.
I would feel despair over of the fact that I didn't get a gig that cool; and shame because I know I could get a gig that cool.  Then, I fall further into a downward spiral… The negative self talk we've all been conditioned to recite to ourselves takes over.  Supposedly, we're supposed to submit to the herd instead of embracing the unique characteristics the separate us from them.
No where is it written that you're supposed to accept the status quo.  Human beings by nature are studious and curious creatures.  We're always challenging ideas and theories that mold the concepts we're told are gospel truth.  That innate characteristic makes us the individuals we eventually become.
It's ok to ask questions. You're a normal person with the same anatomy as the guy or girl sitting next to you.  How you decide to use that information depends entirely on you, my friend.
1. Be Patient With Yourself
Easier said than done, I know.
However, all virtues, like your instrument, take practice.  My favorite method to exercise patience is deep breathing, especially when I'm practicing something difficult or I'm confronted with a challenging moment.  I inhale until my lungs are completely full and my rib cage is expanded.  Then, I inhale an extra short breath for good fortune.  Finally, I exhale for as long as I possibly can.
Deep breathing helps provide clarity and well needed oxygen to the brain, especially during an anxiety attack.  Concentrating on the breath entering into the nose and out of the mouth releases any tension your body incurred during your episode.  It's particularly helpful when you know you're about to get upset.  As you study your body's reactions to certain predicaments, you'll understand which relaxation method works best for you.
2. Seek Professional Help
There's nothing wrong with asking for help when you're in over your head.  Thankfully, technology provides several different methods to communicate with your mental health professional.
In my case, being a single parent did quite a number on my self-esteem.  After being told how worthless and embarrassing I am, eventually I started to believe these ideas.  I inherently knew that anyone who mentioned these disgusting phrases was 100 percent wrong.  But those closest to me reiterated the same song and dance day in and day out.
I decided to visit a therapist to determine what was "wrong" with me.  It turns out that I needed to acknowledge and accomplish two things:
Get my emotions under control by recognizing that I am in control of my body.  No one else has permission to control my mind, no matter how dire my current circumstances may seem.
Remove myself from potentially dangerous and toxic situations and people.  Once I relieve myself of an overly tumultuous individual or circumstance, I recognized that I just built self-confidence, even if it's only a small fragment.
Baby steps.  Any moment where I'm not repeating the same toxic habits is a sure fire win.
If visiting the mental health office is too much, may I suggest this fabulous app called "TalkSpace."  It sincerely lives up to the hype.  The app is user friendly, brightly colored and easily interactive.  The initial tutorial (if you want to call it that) eases the stress of thinking about what you're going to say to a total stranger whom you've never met.
All cards on the table: I value this app whole-heartedly, because I use it personally.   No shame here.  Ever.  
3. Practice Your Rudiments
In percussion, the word, "rudiment," suggests rehearsing the building blocks of 3 and 4 way independent drumming.  However, in this context, we'll focus on the foundation of what keeps us sane, solid and focused.  In order to accomplish that, we must first acknowledge our own likes and dislikes about ourselves and our surroundings.
For example, I'm not a fan of certain styles of music, however my job often obligates me to perform every genre, whether I like the songs or not.  I have to remind myself that I'm a musician.  Therefore, at some point during my career, I will play something I'm not a fan of playing.   We can't have it our way all the time.  But at least I get to play.
One of my former students loved writing.  However, her love of writing overshadowed her desire to practice drums.  Instead of getting bent out of shape about her lackluster performance, I explained that her focused lied elsewhere.  If writing is what you want to do, go and do that.  Regardless, I'll be right here, cheering you on and pushing you forward toward your goal.
She's a wonderful girl; I wrote about one of our adventures here.
Ask yourself this: what is the one thing you'll drop everything for?  What are the necessary steps to improve on that one thing?  Finally, how can you monetize that?
Whatever it is, go and do that… You don't need anyone's permission.  You, my friend, are incredibly smart; if you want it bad, you'll figure it out and get it done.
4. Exercise Daily
Drumming is an extremely aerobic instrument.  My touring friends understand the benefits of staying warm while on the road. My buddies in Biohazard take mats with them everywhere to train and improve their Ju-Jitsu skills.  Other friends of mine took up boxing to keep their wits sharp and upper body iron solid.
My go-to is Tae Kwon Do and Kickboxing.  I'm into anything that improves my feet and refines my martial arts skill set.
Have you noticed that when you work out, you immediately feel better?  It's due to the endorphins that inhabit your brain after pushing yourself hard during a workout.  These endorphins are released into the brain via the blood stream, thusly improving your oxygen levels three fold.  The more air your brain gets, the happier it stays.
Wouldn't you want to do something positive that makes your body and your brain happy?
"But, Kat, I'm supposed to do…"  Sorry, friend, but that doesn't fly in the real world.  You're SUPPOSED to prioritize your health above everything else.  Without your health (I'm specifically referring to your mental, physical, and spiritual well being), you're no good to anyone.
5. Go Outside
Sounds simple, right?  It almost seems absurd.
Don't worry, some fresh air will do you good.
According to Harvard Medical School's Harvard Health Publishing, studies show that an abundance of vitamin D (or rays of ultra bright sun shine) help boost your mood and encourage a positive mental attitude. As you make your way outside, connecting with nature may prove to be an inspiring feat for you.  After all, if it worked for Monet, it'll work for you.
The journal further discloses that natural light instinctively elevates your mood, thusly making you happier. Feasting your eyes on mother nature's art work establishes an inherent bond between you and your natural habitat.
AUTHOR'S NOTE: I'm so happy to see that the benefits of Fresh Air and Natural Sun Light are backed by science.  Personally, I'm a sucker for plants.  If I had it my way, I'd live in a jungle.  With WiFi, of course. 
6. Make Time to Do What You Love
Our American culture prides itself on the service and helping of others.  We've monetized it and grew the notion on a global scale.  Unfortunately, as a society, we've left ourselves last, consequently reinforcing our own personal suffering.  In other words, we're programmed to serve everyone else first.  No wonder we're consistently confused and frustrated a lot of the time.
I go more into blocking "me" time into another blog post here.  However, it's worth researching why we feel compelled to fulfill obligations that require us to view ourselves as last on the list.  I believe our personal value system is skewed and we're conditioned to say the word, "yes," for everything.
Now is the time to obliterate that mentality and make time for yourself by saying, "No."
Inc. Magazine recently published a fantastic article about assertively denying specific requests while maintaining professionalism and generosity.  In other words, taking time out for yourself encourages you to re-establish your focus on the topics, ideas and events that matter to you.  Once you cross these viable and extremely important items off your check list, you'll have plenty of time to please as many people as your precious moments deem necessary.
I sincerely hope these suggestions offer you some serious and well-deserved mental reassurance.  The world is a complicated place.  However, if we respect ourselves equal to the amount that we respect those who inspire us, our surroundings become significantly less complicated and abundantly more stable.
It's something to think about, my friend.
What are your thoughts? How does playing music and performing your artistic endeavors help you curb your mental proclivities?
'till next time…