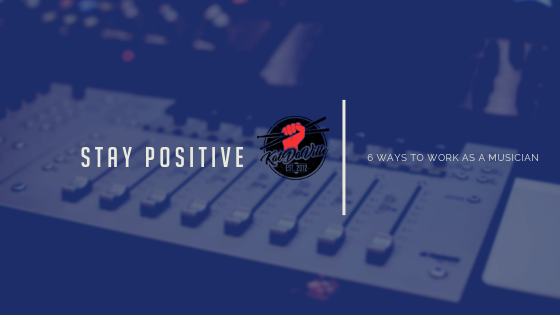 Stay Positive: 6 Ways to Work as a Musician
Starving artist.  Struggling musician.  Does this sound like you?
I know most musicians can't stand the business side of things.  However, one could still be creative while crunching numbers (take it from me; I'm still a bookkeeper).
Your goal is to earn a living playing your instrument.  You can still do that while exercising your creative muscles.  Melodies, groove, and theory can parallel with your average "square" jobs.  Honestly, it's fascinating to see how science consistently provides concrete evidence on how music reinforces and ultimately strengthens spatial awareness, cognitive development, and mathematical reasoning.
Who knew listening and playing along to Metallica and Anthrax would make a better person?
However, this post is more about providing methods of earning income while boosting self-confidence.  In order to gain more income, we must first provide value, education, and service to our clients.  What
1. The Church
The power of Christ compels you!
At least, the checking account compels you…
Believe it or not, the Church (non-denominational and other sects, especially) pay top dollar for experienced musicians to perform at their masses. While Roman Catholic Churches are usually volunteer-based, other churches are worth the research.  I highly suggest reaching out to your local places of worship and inquire if they are hiring any musicians for regular and special gatherings.
2. Cover Band or Cover Soloist
Cover bands and cover solo artists get a lot of flack for "selling out."
I respond with, "Bread before Cred."
If this business has taught me anything, it's that no matter what you do, you'll get grief on some level.  Musicians may disagree with your chosen path and that's fine; we're free to exercise our opinions.  That means you are free to exercise yours, as well.  No one is allowed to negatively influence how you decide to achieve your goals.  Interestingly enough, the individuals who love you the most may deter you from accomplishing anything you hold dear.  That is not their prerogative; it's yours and yours alone.
Get that gig and enjoy playing as much Journey and Killers as your audience requires.
3. Teaching Privately
This one is a given.
Great skills like yours deserve to be shared.  Your astounding knowledge base could potentially reach the next Miles Davis.  Even if you only reach one student, that child (or adult) could be inspired by you to influence others in a life-changing way.
Currently, I'm in the process of building my own teaching facility so I can host interested students.  More on that here.
Therefore, don't sell yourself short.  You deserve to be around individuals who enjoy learning an instrument as much as you do.  My favorite part of the lesson process is when I get to learn more about my students. I go more into a specific lesson that made me appreciate teaching here.
Teaching certainly possesses many challenges, however, the rewards are plentiful.
4. School Presentations
This one is a personal favorite.  I'm a sucker for babies and toddlers.
When my oldest daughter was in Pre-K, her teacher learned that I was a musician.  She asked me to bring my drumset into the school and do a presentation on the parts of the instrument, what are certain tools and how to play it.
I recall bringing a smorgasbord of sticks and watching all the adorable little children click the sticks together all at once.  I was overwhelmed with joy because these children and I were about to have some serious fun!  I played a little song, then the kids looked into my kit (because it's clear acrylic) played on the cymbals.
Pretty sure everyone got something out the presentation that day!
5. Teach at a Teaching Facility
If teaching at home doesn't tickle your fancy, I suggest shopping your talents to the local music school.  Sam Ash, Guitar Center and other mom and pop stores offer music lessons.  You won't need to worry about scheduling your lessons, as they do it for you.  Nor will you worry about the business side of running a school or a studio, since the owners do that for you.  All you need to do is show up and teach.
However, since the owners do that for you, you're at the mercy of the schedule.  If you need time off, like any other job, you ask the manager for time off.  Then, it's out of your hands that point.
Whichever avenue you take is completely up to you. There are pros and cons for each situation.
6. Monetize Your Original Songs
Believe it or not, the internet can connect you with a vast array of individuals looking for original music like yours.  Publishers, jingles, distributors, etc., could be searching the furthest recesses of the world wide web for something new, interesting, and exciting!
Post your music on the major platforms.  Shop your music to advertisers marketing some new fangled gadget no one ever knew they needed. Get creative!  Lots of people we've never heard of are killing it right now doing what they love, and it's all thanks to the internet.
As a matter of fact, I think I'll follow my own advice…
Go get 'em, kid.