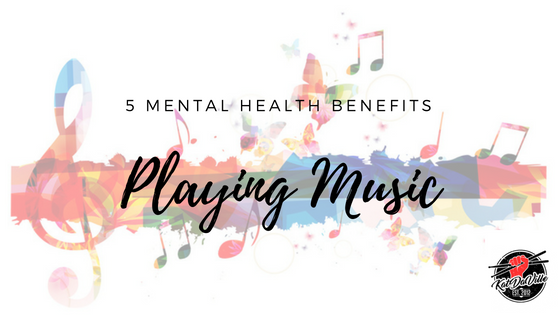 5 Mental Health Benefits of Playing Music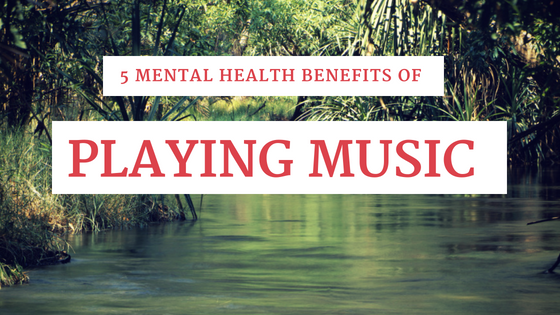 Music possess the capacity to impact all of us emotionally, physiologically, and spiritually.  But what about music affecting us cognitively?  How does music affect our mood?  Can music change our physiology simply through the timbre, groove pattern and pitch?
Thankfully, scientists are currently providing more concrete evidence that supports how music contributes to healing depression, anxiety and other mental health issues.  A number of credible scholarly resources illustrates the benefits music devotes to listeners of all genres.  How music makes us feel possess a direct correlation towards our productivity, performance and overall mental and physical health.
One Good Thing About Music, When It Hits, You Feel No Pain.

Bob Marley
1. Music helps reduce stress.
The topic of Mental Health provides insight to overall general brain function and cognitive capacity.   These particular attributes correlate themselves with outside stressors that may affect the body negatively.  According to the European Journal of Internal Medicine, different forms of music help "modulate several […] neurological functions."  The same journal also reiterates that music triggers "biochemical stress-reducing agents" that help alleviate the negative effects stress produces inside the brain.
Currently music's contribution to neurological and physiological aspects are still being studied, doctors and scientists alike agree music contributes many positive effects to individual who suffer from mental health concerns.
2. Music helps improve cognitive function.
Educators and scientists attest to the fact that music encourages a positive mental state, especially emotionally.  However, further concrete evidence underscores how music affects the listener's arousal and mood.  Tempos attribute themselves to arousal, whereas modes (such as dorian or mixolydian modes) reveal changes in a person's mood.  For example, major and minor tones illustrate happiness and sadness, respectively.
Experiments also show how singing along to familiar songs deject negative thoughts and encourage focusing on specific tasks, while remaining free from distraction.  Tempo, especially, helps reinforce focus through its universal rhythm and grooves by creating and almost meditative state.  Thusly, individuals who use music as a tool to keep themselves grounded and focused on their tasks produce better quality work when they listen to a familiar song or group.
3. Music helps reduce anxiety.
Music also often provides similar effects to that of getting a massage.  I'm not saying massages are not as relaxing as cranking out your slow jam, either.  However, using both in tandem contributes to reducing stress while lowering your blood pressure.
Further evidence illustrates that music attributes itself altering the chemistry of the brain.  According to the American Psychological Association (APA), it even lends a hand in the production of cytokines, immunoglobulin A, and other components of a healthy immune system.  This evidence of biochemistry reiterates music as an important source of increased relaxation.
Time to pump up the volume on that sweet Mozart track!
4. Music helps increase positive moods.
It's no secret that music promotes a better quality of life.  Particularly, personal preference of musical taste plays a significant role in brightening one's mood.  Music exists as a credible source of relaxation, thusly improving one's perspective and reinforces a positive outlook on complicated situations.
Certain scientific studies believe softer music, such as classical and meditative sounds, reinforce positive moods, while harsher sounds, like metal and other forms of rock music, promote anxiety and increase frustration.
As an avid punk rocker disguised in an adult's body, I strongly support lightening your mood with whatever music tickles your fancy.  Other credible studies agree that personal musical preference provides the listener more focused avenues of relieving stress, however these experiments also emphasize that each individual possesses different tastes in music.  Therefore, as blanketed as these findings may seem, it's up to the listener to decide what style, genre, tempo, or timbre helps them reevaluate their current situation and reformulate it into a more positive light.
Take that, scientific community (just kidding; you guys and gals are super smart).
5. Music helps relieve symptoms of depression.
All of us knows someone who suffers from this debilitating illness.  Thankfully, music benefits suffered of depression (myself, included).
All cards on the table: without playing an instrument, I don't believe I could ever appreciate how "Cowboys from Hell" makes me want to solve world hunger or accomplish a goal that makes me feel like I'm in over my head.  What is it about music that riles up my need to solve issues, tackle problems and complete tasks I never believed I could finish?  The first time I heard Skunk Anansie's "Selling Jesus" literally inspired me to practice drums relentlessly and sing about topics I cared about.  It further inspired me to unapologetically speak my mind and, most importability, be myself.
The topics the vocalist sings about make anyone feel uneasy, uncomfortable or even offended.  However, these images originated from her experiences.  Everyone experiences these kinds of emotions, but we tend to display them differently.  Music helps us express these emotions in a healthy and constructive way.  Both parts of the brain are being used when listening to a song.  Tempo, pitch, mode and timbre combine to create the song that brings you out of the darkest recess of your mind and into a more positive perception of reality.
Music brings positivity to individuals who experience all forms of mental illness.  It provides a break from the constant pressures our brain feels daily.  Furthermore, it constructs the soundtrack to our own private movie, where we are the star.  Whether you're listening to Otep or Mary J. Blidge, there's something out there to help you tear away from the pain and use your emotions for the betterment of those around you.
Remember, you have no limits.  Music will never go away and it's always here to bring you back to what matters.
Think about, killer.  Now, go make your soundtrack and make it EPIC.