6 Quick Tips for a Successful Recording (Not Just for Drummers)
So you want to record an album?  Good for you!
Prepare yourself, however.  All of your flaws will be exposed in full view of your mates, producer, engineer, and whoever else may be present during the recording session.
It would benefit you to leave your anxiety at the door and come to terms with the fact that you're a human being.  Artists in general are filled with complicated emotions.  Individuals, especially musicians, make mistakes (including in the studio) and not a single one of us is perfect.  Your mates and producer (primarily the producer) understands (hopefully) this concept wholeheartedly.
But don't worry.  You've got this.
Once you've come to terms with the natural order of things in the studio, your recording session will be a lot easier.
Prepare Your Gear.
Failing to plan is planning to fail.
Heading to the recording studio is just like packing for vacation.  Look ahead and imagine the items you need in the event something crazy happens.  For example, if you know you're going skiing, you'd pack extra layers, snow boots, chap stick (cold weather makes lips chap – heads up), etc.  Same principle applies in the recording studio.
If you're a string player in a rock band, pack the following:
Extra cables (if applicable)

Extra picks (if necessary)

Extra set of strings

Pedal board (for you fancy effects)

Ensure all sockets and connectors are in proper working order

Your music charts (if necessary)

Water

Hand cream (you're gonna play multiple takes of the same song.  Calluses, here we come!)

Tuned and set instrument

Snack

Phone/laptop/tablet & charger
If you're a drummer like myself, I suggest bringing the following:
Extra Sticks (like, soooo many!)

Extra felts for cymbals

Water (I like hot tea – I drink it all day)

Drums re-headed and tuned

Rubber mounts on all screws (primarily the drum head screws)

Bass pedal chain lubricated and noise free

Charts (if necessary)

Snack

Phone/laptop/tablet & charger
If you're a vocalist, I suggest hauling the following:
Your fabulous self

Song lyrics (you might need them, or you might not.  It's good to have a back up in case of a perverbial brain fart)

Water or tea with lemon and honey

Snack

Phone/laptop/tablet & charger

Lots of support for your mates (more on that later…)
These lists are general, however I believe they correspond to all musicians preparing to record their masterpieces.
I don't believe in over-preparing.  As you gain more experience, you'll inevitably understand what items from this list work for you and what doesn't.
2. Rehearse Your Songs Relentlessly
It sounds obvious, I know.  I understand I'm preaching to the choir, however you'd be surprised how unprepared some musicians are when they arrive to perform their tracks.
This scenario is extremely preventable and potentially an easy fix.  It's important to ensure all members are on the same page.  If you and your mates are confident with the direction of the recording, rehearsing more than once a week to get your parts solid is a no brainer.  It's lots of fun, too.
Not only will you get to know each other better, your bond a with your mates becomes stronger.  Therefore, you as a band evolve into the powerhouse you're meant to be.
3. Practice to the Metronome Before Recording Day
This concept is overlooked immeasurably.
The metronome is your best friend.  It can also your worst nightmare.  Imagine being exposed to your own crappy time keeping abilities a week before you're about to record a very important project.  Now, the heat is one and you have work to do.
As a mother of 3, I live and die by my phone.  So, I use apps to help organize my life.  I'm in love the Yamaha Metronome App (the paid version).  There's a ton of cook features, like a mixer for listening to syncopated accents, meter augmentation, triplet meter, add set lists and a bunch of other neat stuff!  That's great for your recording session.
It'll be ok.  I promise the metronome is not as intimidating as people perceive it.  Think of it as your 4th or 5th band member (the super detailed one that points out everyone's "room-for-improvement" spots but does it out of love so we don't all suck, Josh! – my bad, Josh… you're the man, and I love you for making me a better player!).
Here's what you do: Your objective is play on top of the click.  Practice each song with your metronome relentlessly.  If you get bored, that's normal.
Keep going.
After the 13th time rehearsing the song, play it another 13 times so the tempo is ingrained in your brain.  Do that for each song.  Know that tempo like the back of your hand.
Be kind to your future self.  You'll benefit tremendously once you put in the work.  When recording day arrives, you'll be as ready as Rocky Balboa before the big fight.
SIDE NOTE: What's so great about the Metronome anyway?

The metronome is responsible for attributes beyond improving your internal pace.  Aside from ensuring you're staying on time, it also helps your engineer edit EVERYONE'S tracks much faster.  If the drummer isn't on the money every time the snare drum claps or the bass drum booms, you're engineer will charge you for edit time to repair those mistakes.  Please remember that recording a song or an album is a group effort.  The engineer's reputation is on the line, too.

Still, even with all the fancy technology and skilled mixing gurus out there, why give someone your hard earned money when you can resolve these costly edits before they even happen?

Do yourself a favor: Respect the Metronome.  It WILL save you time and money.  GUARANTEED.
4. Be Flexible
Inspiration arrives at the strangest points during a recording session.  After weeks of preparation and rehearsals, the special day you've all been waiting for finally arrives and someone makes a mistake during a take.  These mishaps can get extremely frustrating.  Then again, they could produce some amazing and wonderful changes during the recording process, even if it comes completely out of left field.  In fact, that dramatic error could be the key to making your song a hit!
In all artistic endeavors, we remember how often our color pallets change.  That's why it's important to take inspiration as it comes, especially during moments where the song structure goes in an unplanned direction.
In the end, it's in your best interest to put your best foot forward.  Staying flexible will enable you to make your album best represent you and your mates honestly, authentically and in all it's spontaneous glory.
5. Time is Money
I learned an extremely important lesson when I was starting out.  A noteworthy engineer pointed out that at any moment, I could be replaced in a heart beat.  He further reiterated that if I don't produce excellent quality within a reasonable amount time (in his case, he means he wants the drums recorded perfectly instantaneously), I would be removed unceremoniously and incredulously.
I understand what the engineer was saying: Time is Money.  Therefore, I had to behave like a vital asset.  I needed to contribute to the project as if it couldn't be completed without me.
This is where my knowledge with the metronome became a huge asset.
I played through the song with laser beam focus and stayed fluid as the metronome guided me.  Once I became comfortable with this process, I realized the metronome
Now, I'm able to complete a 10 song album in under 7 hours.
6. Enjoy and Trust the Process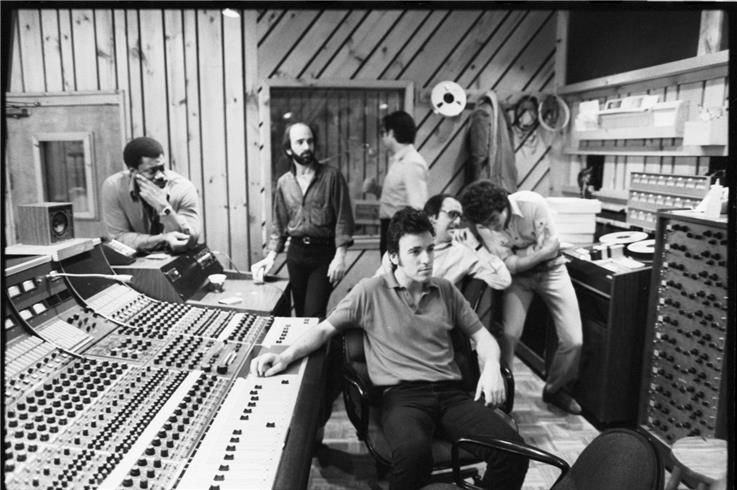 You're making art.  And art is absolutely beautiful and extremely necessary.  Why?  What good does your loud and fast punk rock do for others?  Why do your dope rhymes and fat beats matter at all?
My friend, your contribution to the musical landscape inspires others to improve themselves and embark on their own personal journeys.  For example, how much more intense would any Rocky montage be WITHOUT Bill Conti's soundtrack? (In case you don't know Bill Conti, check him out – he's the man).
Since you're no longer working with a sketch, you legitimately putting paint to canvas.  You will make mistakes and have to re-do takes.  As long as you're prepared for performing your material on the spot, you're recording will go relatively smoothly.
You'll experience many hurdles during the recording process.  Perhaps you don't like the tone of your guitar and you want to change it.  Maybe your drum heads broke and you need to head to the local music shop to get new ones.  Anything can happen, so take it as it comes.  Besides, being creative is incredibly fulfilling.
Think about it: This is just the foundation.  Imagine how much fun you'll have during the mixing process!