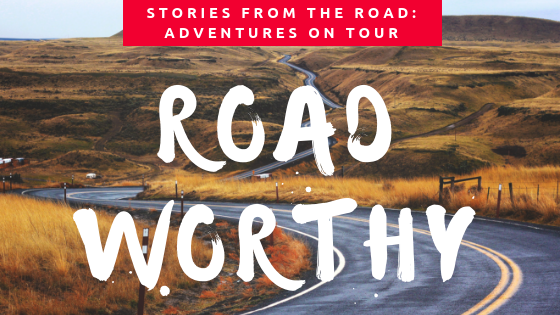 A Road Worthy Story: Tour Shenanigans Vol. 1
Posted on
February 6, 2019
Flash back to 2 years ago.
The Bloody Muffs embarked on a ten day long, "Get in the Van" style, road trip.  Our tour consisted of visiting a couple of cities in Ohio.  This story takes place in the outskirts of Columbus, OH at an ultra cool taco joint, the now defunct xxx.
My mates and I performed for the locals on a fantastic bill.  My band leader was especially excited to see one group in particular, called the Mathematics.  We heard stories of the singer dressing in drag and playing songs similar to the Heartbreakers.  As native Tri-State area folk, we were interested in observing the Mid-Western musical take on native New York City punk rock staple, Johnny Thunders.  The band and I were looking forward to a great night commiserating with the locals and networking with other groups.
What happened next was not very punk rock.  AT ALL.
Like any serious professional, I thrive under pressure (I talk more about that in another blog post, though) I like to set up my things between sets. I don't want to distract the band on stage.  As I lugged my things out of the van, one older gentleman kept observing me as I was moving my things into the venue.  Short and lanky, this local man appeared  long, wavy salt and pepper hair that fell to his shoulders while sported a baseball cap.  The man kept speaking to the woman next to him (whom I am assuming was his wife), pretty loudly, although I didn't pay attention to what they were saying.  We drove a long way to perform in this town, and I wanted to bring my A game.
I happened to assemble my kit near his table.  As I'm making my adjustments, the following conversation ensued:
Short Lanky Dude (SLD) called my attention: "I'd never let my wife set up my stuff."
Me, absolutely flabbergasted, I shrug: "Good for her."
Wife of SLD: "I think that's the drummer for the out of town band! Apologize to her!"
SLD: "Oh you're the drummer!  That's cute."
What a $#%!!!!!
Most people would naturally say to me, "Hey, buddy, don't let that get to you."
No.
Absolutely no one should submit to the bullying ridiculousness of any scene, let alone of any one particular individual.  Every player works their tukus off for the opportunity to gain new fans, make new friends and network their group.  In the end, treating each other with respect produces more mutual benefits than some egotistical rag-a-muffin sitting on his or her high horse with his or her nose sticking heavenward judging others and endlessly running their mouths.
Ok, I'll get off my soapbox, now.
Anyway, I was clearly upset (as you can tell from the last paragraph).  I went outside to sit on the curb so I could collect myself.  I seriously did not see that coming whatsoever.
My wonderful husband emerged from the bar looking for me and asked if I was alright.  A little backstory on H: the man has no fear, especially when it comes protecting his family.  I didn't want to cause a scene and I certainly didn't want to lose the venue for us.  However, he pleaded with me to tell him what was wrong.  I laid all cards on the table and explained my exchange with the… gentleman and his snide comment.
He gave me a hug and told me it would be alright, then went back into the venue.  I collected myself before entering the building – I was trying to save face; I'll admit it.  As I started bringing my things onto the stage, my bandleader came up to me.  "H explained to me what happened. Don't worry; I'll take care of it."
What happened next was probably one of the coolest collective acts of love any group of people ever did for me.  As we played our set, my bandleader heckled SLD throughout every single song.  "Wanna see something cute?" my bandleader said.  "Our drummer's gonna sing a song!"  But he didn't let up.  He kept teasing SLD relentlessly.  SLD kept sinking in his chair lower and lower as my boy kept heckling him from onstage.  SLD clacked his nails on he table, as if he was waiting for my bandleader to stop.  Fat chance.  I'm positive it was the most uncomfortable hour of his life.
When we finished our set, SLD couldn't even look at me.  I played great that night.  I acquire tons of motivation when someone tells me I achieve a goal, as if I need to prove them wrong.  Anyway, Mathematics a good band; seriously, go see them – they're a lot of fun.
I didn't receive an apology nor any form of eye contact throughout the rest of the evening.  I wasn't expecting anything, either.
What I took away from this experience
People for the most part and genuinely kind hearted and willing to work with out-of-towners.
Then, you get these guys who ruin it for everyone.
I chose not to participate in an altercation, though.  Instead, I let my playing do the talking.  Clearly, this guy was not expecting someone of a similar caliber performing on the same bill.
I hope you have mates like mine, who are willing to stick their neck out for you and protect your integrity, show them the gratitude you would like to receive… I'm thankful for these positive people in my life that sincerely want to see me succeed.
I wish the same for you…