A Road Worthy Story: Tour Shenanigans Vol. 2
Posted on
February 18, 2019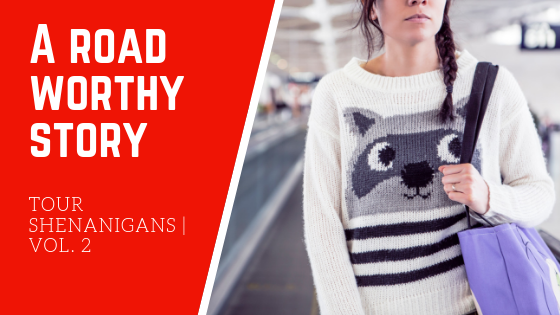 Sometimes, I don't have a sitter and I have to take my girls to work with me.
This is about one of those many times.
The Bloody Muffs performed a matinee all ages show in Brooklyn, NY at the now-defunct venue called, the Place.  My amazing bass player at the time, Jessica Carmen, loved children and appreciated the novelty of a little girl attending a punk rock show.  My oldest daughter was 7 at the time.
I walked my daughter around the venue and showed her the different facets of putting on a show.  We discussed what the amps looked like and I pointed at where the drumset was located and we walked toward where the sound person stands during the show.  She was engrossed in the hoopla and looked like she was enjoying herself.
When it was our turn to play, she was standing next to my husband and looked on towards us performing our show.  Halfway during our set, she appeared uneasy.  I didn't understand why, and there was nothing I could do since I'm behind the drumset mid-performance.  Then, I saw her inch her way closer to Jessica.  Instantly, I knew: she wanted to stand next to me.
Once our song was finished, I motioned her to come over and stand beside me for the rest of the set.  I even gave her a cowbell and stick so she could play along.  In between songs, I checked her ears to make sure her earplugs were properly worn.  You know, your usual mom stuff during a punk rock show.
At the end of our set, my little girl brought the house down.  My band leader nominated her in front of everyone that she was the 4th member of the Bloody Muffs.  The people cheered her on (she was an adorable little girl) and she was incredibly overwhelmed with emotion.
My little angel is now a bass player in the Elite group of the School of Rock franchise (one of the many places I currently teach).    She also wants to be a police officer.  Music clearly inspires others to follow their passion.
What does music inspire you to do?  I want to know!