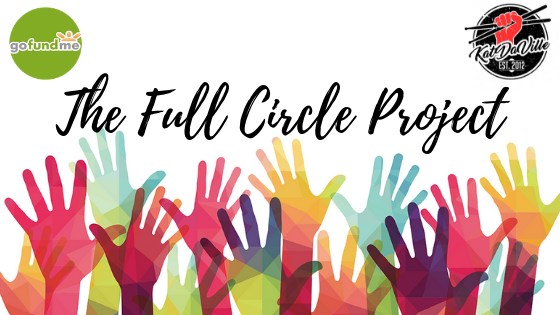 Studio Update: We Need Your Help!
Posted on
December 17, 2018
Hi friends!
I'm so thankful to all the new readers checking out the blog.  I'm sincerely grateful for all dialogue about the topics on how to perform better and, ultimately, how to live better through your instrument.
I'm even more grateful for how you've all inspired me to dive into my dreams with both feet.  I am adamant on returning the favor, but I'll need some help to create a space in order to make that happen.
And that's where you come in, dear reader.
Here's the go fund me link: the Full Circle Project
I created this project to help women in crisis, particularly those who are single parents (like I was) and living on the streets or bouncing from couch to couch (like I used to do).   My goal is give back to the organizations who helped me get back on my feet, while making the public aware of these community infused charities.
Here's an excerpt on what the Full Circle Project is all about:
I work with women of all ages to build their self-esteem through music. As a drummer, I've received many different kinds of positive and negative responses toward my abilities and skill level.  As a former single mother, I relate to caregivers of all ages who feel they have no one to rely on and just need some extra moral support to push them through their day.
My goal is to bring the long awaited, painstakingly fine tuned Full Circle Project into fruition.
I've been a music facilitator, educator and instructor for nearly 20 years.  My goal is to help women realize their own self-worth by improving their artistic skill set through studying musicianship, internalizing professional ethics musicians (and all professions) require, and provide volunteering hours and donations to organizations that help women and mothers in crisis.
This mission is near and dear to my heart, because I used to be one of those women.  Music brought me back from the brink of despair and into a world full of hope, empowerment and positive support.
Your donation will build a studio dedicated to female empowerment, building a sense of self-worth and ultimately providing the foundation to create the next phase: focusing on a charity annually that encourages bringing women from the brink of their own distress.
Upon achievement of this goal, we begin our work immediately.
20% of all donations are dedicated toward building the studio's home base.  It will require soundproofing, refurbishing all fixtures, and creating a safe and creative space worthy for all clients.
30% of all donations are dedicated toward supplies to help the studio function on a daily basis, i.e., music equipment, technology equipment, office furniture, and a solid IT infrastructure.
30% of all donations are dedicated to spreading the word: Social Media, SEO, website, signage, and other forms of advertisement.
The remaining 20% are dedicated to creating the necessary foundation to maintain our mission, which is to serve our communities through LOCAL charitable organizations.  In other words, we'll be starting a volunteer hub from AND with all our clients, networking with different LOCAL charities that benefit the communities we come from.
For transparency, a breakdown of each an every expenditure will be available upon completion of the project.
Clients who are interested in participating in the Hub will commit their hours to this year's charities: Elijah's Promise Soup Kitchen in New Brunswick, NJ (where I'm from), and the Samaritan Center in Manalapan, NJ (where I live now).
I selected these two charitable organizations in particular because I was a client of both of them.  What better way to start this new path then by helping those who helped me and my family?  With Elijah's Promise's help, I was able to save money to feed my children home-cooked meals, while I had my dinner in a soup kitchen.  With the help of the Samaritan Center, my whole family had a legitimate Christmas dinner that year.
These organizations helped me, my husband and my children on the most personal level.  I want to create something artistic that gives back to them.  Hence the name: Full Circle.
Your help with this mission will not only help sustain my personal vision, as a charitable entrepreneur, but it will also help women of all ages recognize how important we are to each other, how vital women are to society and how much stronger humanity is when we stand together and help women pick themselves up and follow their dreams.
Help our girls out.  We set the example.  All you have to do is set the price.
Thanks for reading…