5 Inspiring Punk Rock Drummers
Posted on
December 17, 2018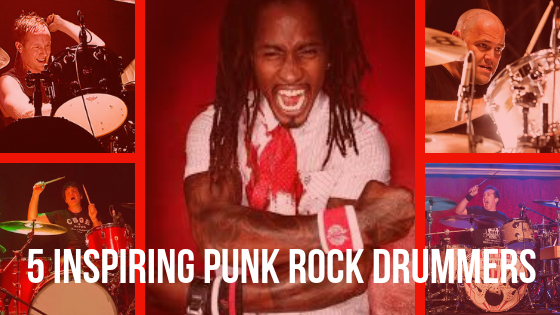 STORY TIME!
The first time I ever thought about picking up sticks was when my mom took my sister and I to the local Sam Ash to buy her a keyboard.  I was around 10 years old at the time and I always knew I wanted to play music.   While my mother and sister were shopping for electric keyboards with weighted keys,  I wandered off into the back room with all the shiny looking can things.  As I approached the Drum Room, I heard a very complicated drum pattern being performed by one of the employees.  At the time, I didn't understand it, but I was able to comprehend what he was doing while intellectualizing how he was doing it.  I immediately scurried over to the bucket of spare drum sticks and ripped away the first pair I could find.  My eyes scavenged frantically for something to hit.  After a few milliseconds, my focus  landed on a shiny metallic Pearl Export kit.  The first thing I played was the first thing I could remember: the drum fills from Black Sabbath's "War Pigs" (my brother was HUGE into classic rock, especially Led Zeppelin, Jimi Hendrix and, of course, "Paranoid" era Sabbath).
My sister came to the drum room looking for me.  I must've been gone for a while because I noticed she had a plastic shopping bag in her hand.  She asked me what I was doing.  I told her, "I'm playing drums."
"Let me see," she replied.
I played her a crude version of the War Pigs fills that I could remember.  I don't know how I played it, but she was in shock.  My mother walked into the drum room and inquisitively asked what I was doing in here. "She's playing drums," my sister responded.  My mother looked confused.  As we were leaving, I asked my mom for a drum set and she shrugged it off, thinking that I was only attracted to the shiny wrapping and the noise.
Little did she know… LOL.
AUTHOR'S NOTE: Anything or anyone inspires everything and everyone, at least, to some capacity.  The following list does NOT illustrate or reiterate who is the absolute BEST in punk rock drumming.  However, these are the individuals who inspired me to take my playing seriously, study my abilities more closely and value myself as a player as well as a person.  Hopefully, these drummers will inspire you, as they inspired me.
Josh Freese
This guy.  This guy right here is my hero.  Josh Freese is among the most versatile musicians in the world (not just on this list).  He's performed on more than 300 albums, is an original member of A Perfect Circle, toured and recorded with The Replacements, DEVO, Nine Inch Nails and subbed for many more noteworthy groups and solo artists …
The actions that make him inspiring stem from his first professional gig with one of my favorite groups, The Vandals.
He was 16 when joined the seminal southern California punk group.  Since then, he remained a professional musician with a stellar work ethic and focused reputation.
Josh Freese represents every attribute I personally strive to convey in my writing, in my performances and life in general.
D.H. Peligro
I absolutely love this man.  Not only is he wonderful to look at, he's also a wonderful player and performer.  During his days in the Red Hot Chili Peppers, he became addicted to drugs, thus removing him of his drum duties.  Thankfully, he removed the negative elements that encouraged his habits and kept playing.
I was fortunate to meet DH Peligro of the Dead Kennedy's at CBGB's of all places back in 2006.  I was a young, single mother, still eager to break into the scene and support my daughter and I by playing. Watching this guy perform, then having the opportunity to talk shop with him inspired me and gave me hope to keep pursuing my dream.  This guy even called me to see what kind of work I was doing at that point.  Sadly, I failed to produce any recordings he liked, since I was still a punk rock novice at the time.  Regardless, I'm honored he addressed me and gave me a shot.  It showed me I was worth the time and the effort.
I'm happy to report that this man doesn't age.  He's still performing and outlasting you and I on stage.  DH is still playing fast and loud among his talented contemporaries.
Lucky Lehrer
Lucky Lehrer is among the most prolific and educated punk rock drummers around.  The Hollywood Press Corp dubbed him the best punk rock drummer of all time. Originally the drummer for the Circle Jerks, Lucky's catalogue spans across the musical spectrum from hardcore to jazz fusion.  While anything jazz-oriented sounds like an immense departure for a player of this caliber, this man stands his ground regarding his music choices.  To be blunt: If we do not integrate the diversity of musical styles around us, we will remain in the same spot with the same issues plaguing our abilities to improve; without extending our curiosity beyond what we already learned, we, as artists, will never evolve. 
I would listen to him.  Lucky Lehrer is probably one of the most successful punk rockers ever.  This man is a great business man (check out his mansion) and tells incredible stories, like that one time when the Decline of Western Civilization debuted, 40 police cars arrived on scene to, "keep the peace."
Lucky certainly lives up to his name.
Bill Stevenson
Bill Stevenson LOVES coffee. He credits his incredible speed to gulping 6 to 12 espressos prior to every performance.  His 16th note single stroke rolls alone make any self-respecting drummer pick up their sticks immediately and go practice.
What makes Bill Stevenson so memorable is not only his amazing skills behind the drum set.  His excitement for the music and his animated responses toward any topic he deems fascinating is absolutely contagious.  In other words, he reminds me of me: another fan excited to be a part of something amazing.
Recently, he underwent open heart surgery, removal of a brain tumor and a slew of other health ailments.  These occurrences, unfortunately, left him feeling distraught for a time, resulting in weight gain and, ultimately, diabetes and sleep apnea.  That is, until the drums came calling and the tours got booked.  With a new lease on life, his new found perspective on his illustrious career and the legacy he's left behind encouraged him to keep the sticks in his hands and look towards the next adventure.
If we don't have our health (including the physical, mental and spiritual), we don't have anything.
Clem Burke
Mr. Clem Burke is not only a class act, but certainly a force to be reckoned with.  A fellow New Jerseyan (hailing from Bayonne, NJ), his abilities sprinkled his talent across a large spectrum of just about every rock genre and sub-genre, particularly in the the punk and new wave scenes of NYC.
The man is my spirit animal: he performed with Iggy Pop, Blondie (obviously), the Ramones, David Bowie, the list is endless.  What makes this drummer the most inspiring to me are his contributions to science (more about that here), and his chameleon-like abilities to switch methods between groups.  Iggy Pop and Blondie might exist in the same genre specific universe, however not many instrumentalists possess the capacity to differentiate the quintessential drumming styles between "Lust for Life" and "Dreaming."
Regardless, this man remains an inspiration due to his relentless patience.  Blondie disbanded more than once, yet he continued to perform with them when the heat simmered down.  During Blondie's many hiatuses, he kept busy performing with many noteworthy, top billing acts.  Yet, when it came time for the family to reunite, the rock, that is Clem Burke, answered the call and picked up his sticks.
Clem Burke inspires class, in my opinion.  His level of patience is a goal I hope to one day achieve.
Reflect on that, friends.  I know I will…
Which musicians inspire you?  Let's talk about how they've positively influenced you!