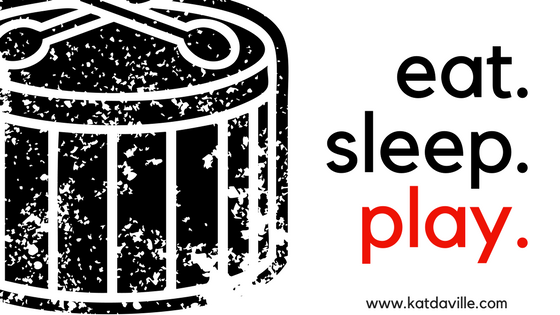 8 Tips to Kick Your Performance Game Up a Notch
What time is it??? GAME TIME!!
You may be a fantastic and well-rounded musician, but let's face it: you're also an athlete.
String players put their upper body through the ringer.  Drummers and percussionists of all kinds go through a full body work out.  Brass and woodwind players rely heavily on breathing techniques and aerobic skills to create their notes.  Vocalists of all kinds depend entirely on their body to produce the highest quality sound possible.
I know what you're thinking: unless you like mega marathons or body building on top of performing, chances are you disagree with me wholeheartedly.
Let's take Blondie drummer (and my spirit animal), Clem Burke.  This Bayonne, NJ native contributed his rhythmic talents to a joint groundbreaking study with the University of Gloucestershire and Chichester University in the UK.  The study illustrated that drummers in particular possess incredible stamina.  Dr. Marcus Smith and Dr Steve Draper, the good doctors responsible for overseeing the experiment (and Blondie fans), compared the physical endurance of drummers to professional soccer players, using Clem Burke as an example.
The results were fascinating, albeit not surprising.  The study compared the heart rate of soccer players during league play and professional drummers on tour.  Soccer players during championship games peaked at 140 to 150 beats per minute (BPM), while a professional drummer during a 90 minute concert climaxed at 190 BPM!
Since the inception of this 8 year experiment, the University of Gloucestershire created its own "Beat Laboratory" to further study the stamina of other drummers.  For more info on this fascinating research, click here.
To clarify: this post isn't about weight loss or diet plans or exercise routines.
Instead, this post is to help you determine where your performance levels need improvement.  As musicians and artists of all kinds, we understand the notion of "Perfection" is a glorified myth.  However, just because we aren't perfect doesn't mean we can't become better players, let alone better people.
Repeat after me: You have no limits.  
1. Track your time.
My new favorite app is the "Productive" app.  Check it out:
I use this handy-dandy tracker to remind me of performing tasks that are important to me.
The app allows you to organize your morning, afternoon and evening habits in an effort to encourage you to be more… well, productive.  From brushing your teeth to working out to practicing your instrument, this particular gem of an app keeps track of how many times you documented your actions during the week (or whatever time frame you choose for the habit – it's THAT cool!).  Also, it keeps statistics on how often you swipe right on your good habits.  Did you want to know how often you made your bed this week?  The app will tell you upfront.  Those stats can't be edited, either.
Further more, I can create my own habit (like kickboxing or meditating or practicing a certain concept).  One of my habits I'm trying to break is not drinking enough water.  I can tell the app to remind me every half hour until I swipe right to complete (heads up: that's a Premium feature).
All in all, it costs $3.99 a month for all the bells and whistles, but it's so worth it for forgetful individuals with a lot of balls in the air… like myself….
2. Practice to a metronome.
My dearest friend, Bobby Boyd, turned me on to my favorite metronome:
The metronome is your best friend.  It's also your worst enemy.
If you're interested in understanding where your rhythmical flaws lie, practice to a metronome.  I know, using the click track can become debilitating when you're starting out, especially when you're about to record your album or single.  However, if you use it as a part of your daily practice regiment, not only will your timing remain solid, but you're execution becomes increasingly more efficient.  Remember, your time is valuable, therefore putting diligent effort into improving your performance from the beginning pays serious dividends during any gig, recording or otherwise.
In other words, my friend, time is money.  It's in your best interest to protect it at all costs.
For more info on why the metronome is so important, click here for my blog post that covers it.
3. Review the fundamentals.
Creating the proper foundation promotes promotes excellence on every level.
Just like in boxing, properly executing of every punch results in devastating blows with minimal injury to your body.  In other words, technique prevents injury.
When executing your scales, drills or rudiments, it's important to analyze the following:
Posture
Poise
Wrist tension
Attack
Conditioning
Musicianship
Isn't it interesting how these minor details contribute to improving your playing?
As a panel judge, I'm a stickler for technique.  The level of technique a musician displays shows how serious one takes their instrument.  Focusing on the gears of how we perform even the simplest tasks impresses any band leader enough to hire you.
I highly recommend making these concepts part of your practice regiment.  Providing your group the right foundation with your instrument makes the lot of you stronger than you may realize.
4. Get some sleep.
According to the Sleep Research Society (www.sleepresearchsociety.org), sleep and circadian disturbances and disorders afflict millions of individuals in the US.  Lack of sleep contributes to an overabundance of illnesses, such as heart disease, obesity, diabetes, etc.; the list is uncomfortably long.  The implementation study conducted by the Sleep Research Society reiterates how important sleep is to your daily mental functionality, including your self improvement as a musician.  The recommendations form the Sleep Research society indicate that "insomnia and sleep-disordered breathing are associated with cardiovascular morbidity and mortality."
Don't get me wrong, being a musician obligates you to conduct your work during really weird hours.  I don't know about you, but sometimes I'm not home from a gig until 4AM.  Then, I go to bed and I wake up at my usual time to get the girls ready for school.  To add insult to injury, I have to force myself to get some shut eye and, often times, I fail miserably.
The results from clinical research demonstrate the importance of prioritizing sleep.  Therefore, getting adequate sleep not only regenerates your mental aptitude, but encourages the rest of your body to follow suit.
Sleep deprivation causes many ailments, both cognitive an otherwise.  Maximizing your time and making rest a priority produces several essential benefits, such as steady peak performance during gigs and rehearsals as well as personal and family time.
5. Place your self care obligations first.
What are self care obligations?
Hygienic actions, like brushing your teeth or brushing your hair, take precedent over any other obligations.  Did you get that?  I said, "Brushing YOUR teeth or brushing YOUR hair."
In other words, if you don't take care of yourself FIRST, you're no good to anyone, especially your mates. 
Those dishes can wait until you've gotten dressed for the day.  Your dirty clothes can stay in the hamper until after you've taken shower.  The dirty floor will be swept and mopped, but only AFTER you've had your morning coffee or tea.
I understand your predicament: I'm a homeowner with 3 children and a husband.  Latinos like myself are workhorses when it comes to chores that encourage the productivity of others.
Repeat after me: I COME FIRST.  If you put yourself as your top priority, you will have more time to achieve what matters most to you.
6. Eat right.
Every Sunday, like clockwork, I meal prep for the week.  For example, check this out: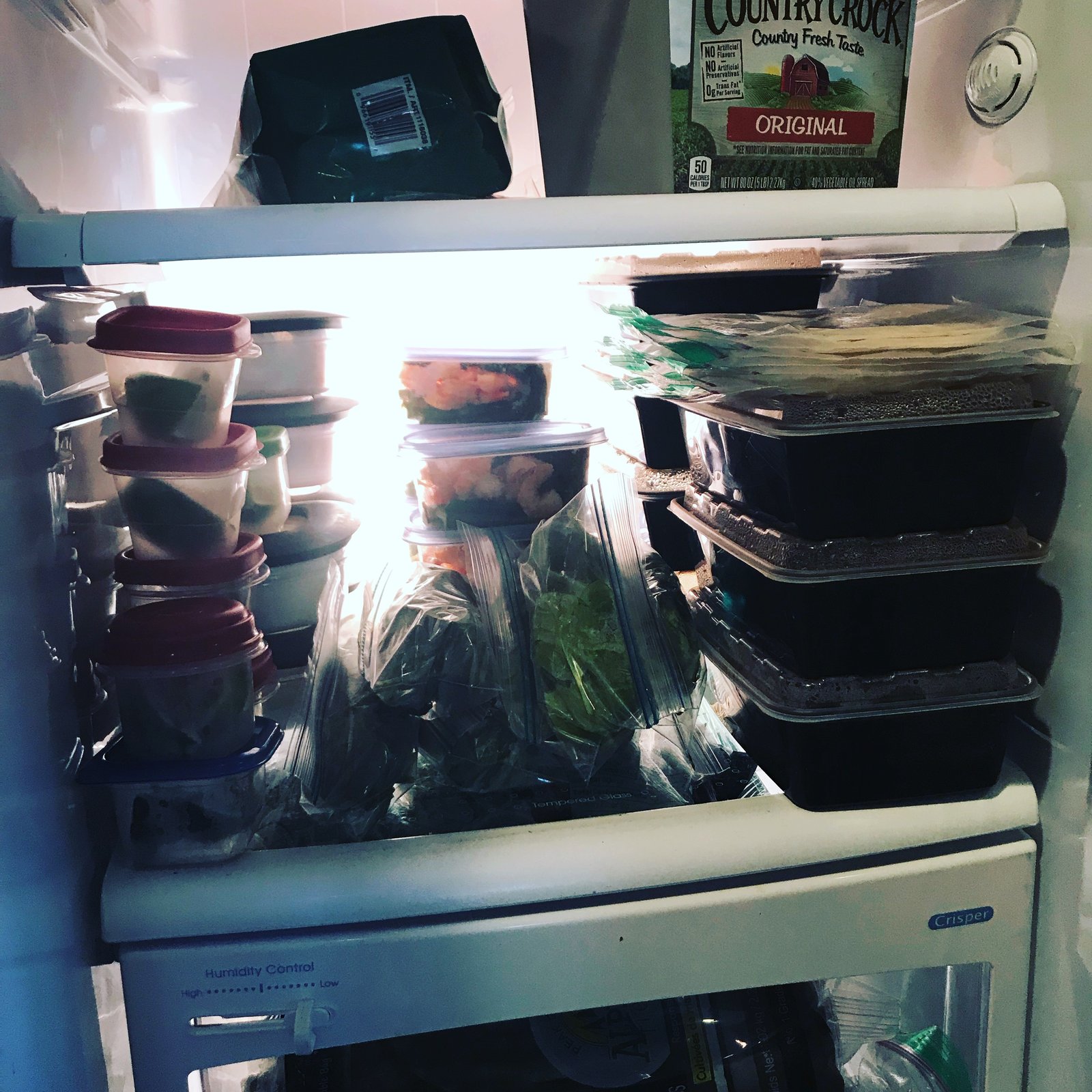 You're looking at spinach, shrimp, eggs and bacon, and greek yogurt – 7 of each plate…
A few years back, I experienced the joy of passing kidney stones for the first time.  After going through the agony of fake "child birth" again, I vowed to take better care of myself so I NEVER have to feel the excruciating pain of passing stones EVER again.
I asked around and a fitness model friend of mine put me in touch with her coach.  I contacted famed nutritionist Sarah Hudson and this lovely human being provided me with a workout plan that fit my schedule, but more importantly, she gave me the meal plan I needed to fend off kidney stones for good.
This process intrigued me.  I learned how food contributes to the stamina and endurance of each muscle group.  For example, spinach (not my favorite vegetable, but I've grown to appreciate it) possess loads of iron, which enhances muscle grown and speeds up muscle repair.  I also learned that skin cells are created from the food you ate a month ago.  That little nugget of truth, in particular, blew my mind!
You guys, you literally are what you eat.
In order to fully appreciate how food improves your overall stamina and endurance, we must first analyze how the human body reacts to the different foods you intake on a daily basis.
Here's some snippets of what I appreciate during this journey:
Caffeine dehydrates your body.

Drinking twice the amount of water off sets the coffee you drink and, therefore, rehydrates your body to optimal levels.

Mushrooms possess specific branch chain amino acids that one can't find in any other food.
Greek yogurt has a RIDICULOUS amount of protein.  It's super creamy, too.
Adequate sleep keeps your "will power" in check.

People underrate the importance of rest and sleep.  DON'T DO THAT.
7. Exercise daily.
It's not a secret that I'm a huge proprietor of martial arts.  Not only am I learning a skill, but I'm also working on my technique and mental focus, while strengthening my arms and legs in the process.  For me, it's not about losing weight (although that's a pleasant side effect).  It's more about what works for me in order to become a better player.
Everything I do is for the music.  Music is my livelihood and I want to do whatever is necessary to keep going and keep my A game at peak levels mentally, physically and spiritually.
8. Have fun!
You are an artist.  Your passion is supposed to be fun!  The amount of hard work you put into your instrument clearly affects by how badly you want to succeed.
I don't know about you, but when I'm behind a drum set or a microphone or even teaching a student the philosophies behind something as simple as the Paraddidle, everything makes sense.  From practicing rudiments to playing Metallica's Blackened, my issues melt away, even for a brief moment.
I especially have a blast performing Lady Gaga songs in my Jersey Shore cover band, Right Meow.  Hey, it's a living.  And a fantastic one at that.
That, my friend, is why I always have fun playing.  Hopefully, this will help you see the benefits of kicking your performance up a notch, too.
I sincerely hope you enjoyed this post and found these concepts insightful.  What do you do to up your game?